Harmony
New Jersey
Medical Cannabis.
Address
Hours
Sunday - Thursday 9AM - 8PM
Friday 9AM - 4PM
Contact
info@harmonydispensary.org
New Patients
No appointment or consultation required.
Please bring your NJMMP card and an ID, and we will assist you in becoming a Harmony patient.
Consultation
Our dispensary team is available to consult about our products, how you might want to use them, and to provide advice on infusing.
Available Discounts
We offer 10% discount for seniors, anyone on gov't assistance, people traveling 50+ miles round trip, first responders and veterans. 20% discount for those who qualify for two of these categories. Pediatric patients receive a 50% discount.
Payment
Currently, we accept only Cash payments. We have an ATM in the dispensary.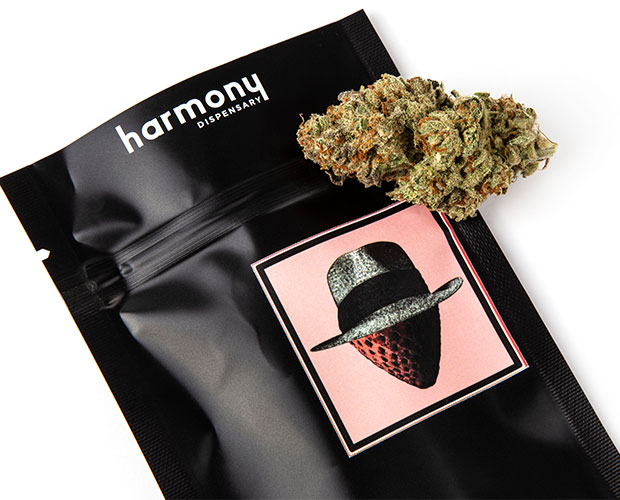 Our Black Bag Line of product is packaged in custom light and smell proof polyethylene black bags, and is in whole flower form. People who enjoy the ritual of breaking up and smoking top shelf flower will enjoy our Black Bag Line.
Our White Bag Line is packaged in custom light and smell proof polyethylene white bags, and is available in ground flower form as well as pre-rolled cones. The ground flower is for people who prefer the ease that pre-ground flower gives when rolling, vaporizing, and cooking. The pre-rolled cones are great for a fast convenient smoke.
Check out our Daily Specials - Everyday a Convenience Line (Pre-roll and Pre-ground) strain is on sale 20% Off.
The "Entourage Effect" is a term coined by Shimon Ben-Shabat and Raphael Mechoulam back in 1998, to represent the biological synergy of cannabinoids, flavonoids and terpenes found in cannabis.
Human interaction with cannabis as a medicinal plant stretches well beyond recorded history. It is only in the past half century that the components of medicinal cannabis efficacy have been studied. The majority of phytocannabinoids were discovered in the 1960's.
The cannabis plant consists of a wide variety of chemicals and compounds. About 140 of these belong to a large class of organic hydrocarbons known as terpenes. Terpenes, unlike cannabinoids, are responsible for the aroma of cannabis. You may have also heard people talk about terpenoids.